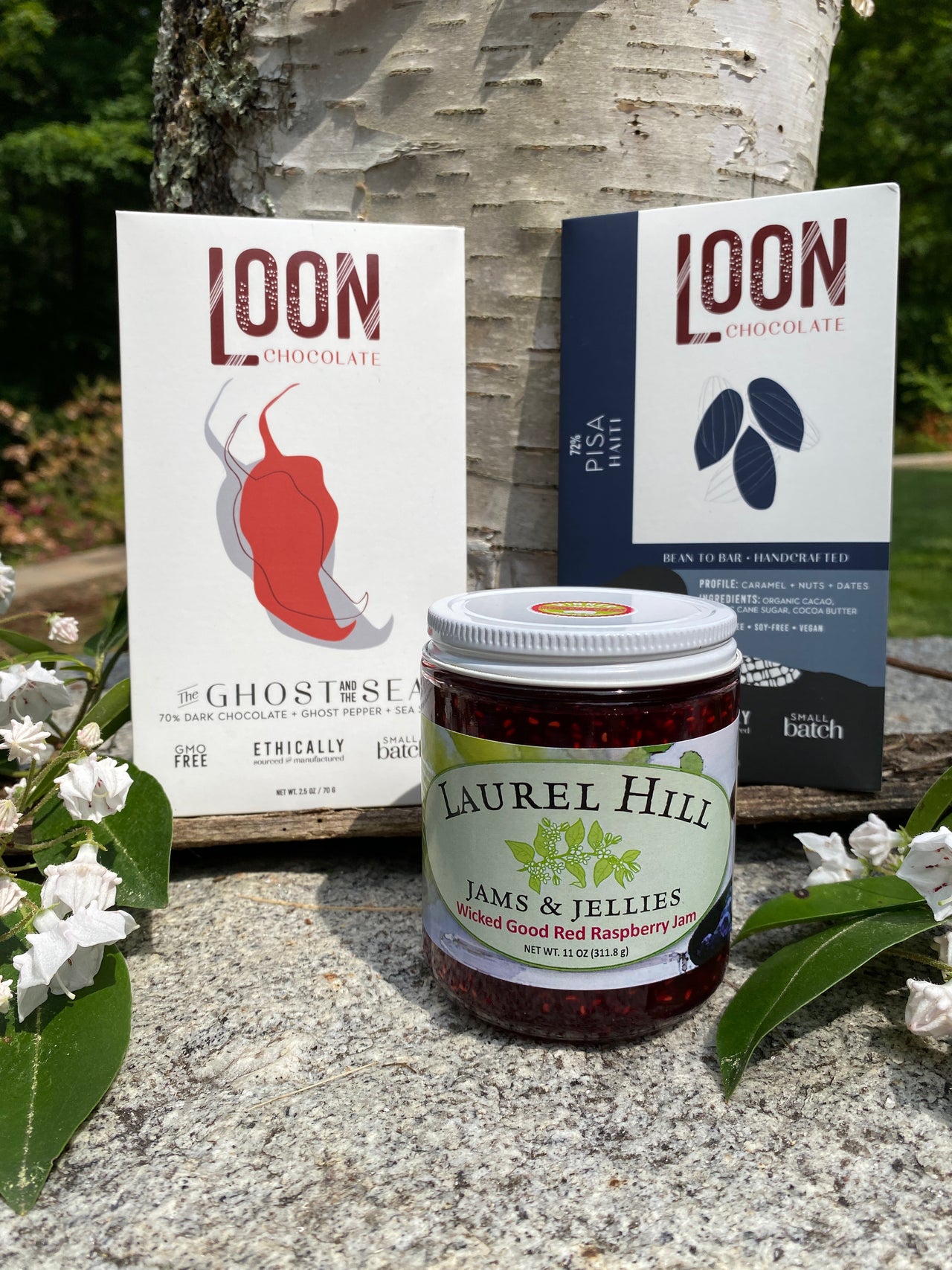 Laurel Hill Jams & Jellies & Loon Chocolate: A Sweet Pairing
Rachel Mack
Unique flavors and high-quality ingredients are what make great foods stand out from the crowd. Laurel Hill Jams & Jellies, known for their delicious jams & jellies, and Loon Chocolate, a celebrated bean-to-bar chocolate producer based in Manchester NH, have now joined together under one company. The result is a sweet collaboration that is sure to delight taste buds everywhere.
A Perfect Pairing: Laurel Hill Jams & Jellies has been captivating food enthusiasts for years with their exquisite range of handcrafted small-batch jams and jellies. For over 15 years, they have built a strong reputation for their commitment to using only the finest ingredients, sourcing fruits from local farms and incorporating unique flavor combinations. With a focus on quality, sustainability, and small-batch production, Laurel Hill Jams & Jellies has garnered a loyal following in New Hampshire and across the US.
The Rise of Loon Chocolate:  Loon Chocolate, a rising star in the world of artisanal chocolate, has been crafting delectable, bean-to-bar chocolates since its inception in 2017 by Scott Watson.

Committed to sustainability and ethically sourced cacao, Loon Chocolate has captured the hearts of chocolate aficionados worldwide. With their meticulous attention to detail and dedication to creating complex and harmonious flavors, the company has earned a great reputation and numerous accolades.
A Sweet Union:  The combining of Loon Chocolate and Laurel Hill Jams & Jellies marks an exciting chapter for both companies. While seemingly different in their offerings, the two brands share a common commitment to quality, craftsmanship, and flavor innovation. By joining together, Laurel Hill Jams & Jellies and Loon Chocolate can share their strengths and create new, exciting products that will delight their customers.

Expanding Horizons: With this union, Laurel Hill Jams & Jellies gains access to Loon Chocolate's expertise in working with cacao and creating exquisite chocolates. This opens up a world of possibilities for flavor combinations, as the two companies can now experiment with incorporating chocolate into their existing line of jams and jellies. Imagine the decadence of a dark chocolate strawberry jam or the indulgence of a chocolate-infused raspberry-lavender tea jam.
The Power of Local Sourcing and Sustainability: Both Laurel Hill Jams & Jellies and Loon Chocolate share a strong commitment to supporting local farmers and using sustainably sourced ingredients. This shared ethos ensures that the partnership is not only a business move but also an opportunity to champion ethical and responsible practices.
The combination of Loon Chocolate and Laurel Hill Jams & Jellies is a significant milestone that promises a future filled with delicious and innovative products all continuing to be 100% produced in New Hampshire. As the companies blend their expertise, customers can look forward to a wide array of delectable offerings that combine the best of both worlds. Stay tuned for more information about products that tantalize taste buds and showcase the artistry behind fine foods.